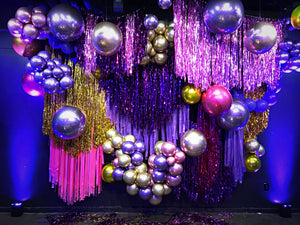 Handmade Fringe Walls for retail, tradeshows, events. Reusuable and easy to hang!
FRINGE WALL FABRICATION, CREATIVE DISPLAYS, AND BALLOON INSTALLATIONS
Badass Balloon Co. is a unique, big-picture installation design studio, specializing in artful, custom displays. We've created high-visibility branded art installations, with fringe, florals, props and balloon styling and ofIfer fabrication for corporate and private clients. We can help you create a huge impact  for any event and transform any space to feel festive and chic. Contact us to turn your party, event, or brand activation into social media gold.